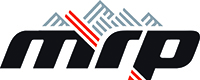 G2 Chain Device

The G2 will be the first chain guide model to go into production utilizing MRP's patented bash guard technology. The G2 showcases a fully integrated skid plate, boomerang, and lower guide design never before seen on a bicycle. The result is a no-compromise guide that is light enough for the most weight conscious racers without sacrificing chain retention, rigidity, or protection of the chain and chainring.

G2 Features:

* Patented Integrated Skid Plate Design
* 260 grams complete, including all hardware
* 5mm thick CNC Alloy Boomerang with weight-optimized relief's
* 13mm thick replaceable polycarbonate Skid w/full boomerang support
* 3-point attachment of Skid to Boomerang
* Derailleur cage style upper guide providing full chain enclosure
* Integrated Skid/Lower Guide including sealed bearing pulley wheel
* Enhanced Lower Guide rigidity and protection
* Front-access, single-bolt positioning of Upper and Lower Guide
* Low profile installation compatible with wide range of chain lines
* Available in ISCG, ISCG '05 or BB mounting standards
* 36-40 tooth capacity

G2 Benefits:

* Low weight, more protection
* Skid resides 2mm inboard of chainring for the same amount of protection as a traditional bash ring, with less than half the weight!
* Skid adds structural integrity to boomerang, and provides inside lower guide surface
* Seamless transition when sliding over rocks and obstacles
* Transfers energy from impacts into the strongest part of the frame, instead of to the bottom bracket bearings and crank spider. No more bent spiders!
* Easy to install and adjust
* Minimized chance of crunching the lower guide




Free shipping on all website orders over £25 to UK mainland.