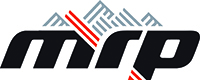 MRP AMG Guide

All-mountain Guide (AMg)
The new All-mountain Guide is the love child of two innovative and revered product lines, the 1x and XCG. Perfectly suited to the increasingly popular all-mountain segment, the All-mountain Guide features MRP's patented integrated skid protection and shares the freshly updated upper guide from the G3, but lacks a lower retention mechanism. The All-mountain Guide is a great choice for 5-6" travel bikes when used with the latest tensioned rear derailleurs or on its own for shorter-travel trail bikes or hardtails that require bash protection. The contact-free, "upper-only" chain retention means the All-mountain Guide will be virtually silent and completely drag-free when pedaling. The patented integrated skid will protect your crank and chainring and prevent the chain from ever contacting and potentially damaging your expensive frame.

- Integrated skid protects chainrings and glides over rocks and obstacles (US Patents RE 42,436 / 8,235,849 Patents Pending).
- Nylon upper guide features tracked and grooved backplate interface and pivoting faceplate that allows for stable and straightforward installation.
- Quietring wrap on the upper guide's tail mitigates chain-slap for quiet, muted chain retention performance in even the roughest terrain.
- Available in 28-32t (Please note that the 28-32 is changing to 28-34t compatibility on a rolling change) and 32-38t sizing
- No specialty tools needed! All install and adjustment operations possible with just a single 4mm HEX wrench.
- Alloy or Carbon backplate options
- ISCG, ISCG-05, and BB mounting options (BB mount option not available for carbon or 32-38t models)
- Compatible with 8-11 speed drivetrains.
- For single-ring drivetrains.
- Available in black or white

The AMg shares parts with other guides in the range. For upper guides, please look at the G3 spares here:

http://www.ison-distribution.com/english/product.php?part=CHMRG3GS

and for skid plates, please look at the 2x guide spares here:

http://www.ison-distribution.com/english/product.php?part=CHMR2XGK

You may just be the type of rider that should be using some sort of chain guide. Some people, especially those who are pushing hard and going fast over rough terrain, are just always going to need some sort of chain guide. - Mike Levy, Pinkbike 2015.




Free shipping on all website orders over £50 to UK mainland.